The Czech original Budweiser was tested 5 years ago already. So it was about time to test again on the level of gluten. This time Oivind tested with similar conditions: same beer, brewed most likely in the same brewery in Budvar/Czechia, same alcohol level, same ingredients so probably same recipe and the same test kit was used – GlutenTox Home. The only difference was that Oivind tested the can rather than the bottled variant.
The vessel shouldn't really make a difference but still we have different test results now and then. 5 years back there was no indication on gluten in the sample and the test was done on a 5 ppm level, i.e. the most sensitive threshold. Oivind now experienced a different result – see below.
Beer: Budweiser Original
Producer: Budějovický Budvar n.p.
Originating country: Czech Republic
Brewing location: Czech Republic
Bottle size: 0.5 l can = approx. 16 Oz.
Alcohol by volume: 5.0%
Ingredients: water, barley malt, hops
Miscellaneous: –
Test Kit: GlutenTox Home Kit
Oivind tested with the thresholds of 10 and 20 ppm. The limit of detection depends on the number of drops taken from the extraction solution, please find some more information here.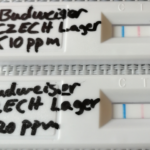 Test result: There is a clear indication of the presence of gluten above 10 and 20 ppm. The red test line of the 20 ppm test is weaker than the test line of the 10 ppm test. This result makes sense as it shows that there seems to be much more than 10 ppm and little more than 20 ppm of gluten in this sample. According to the instructions there should appear a clearly visible red test line on the right of the test area ( T ) to indicate the presence of gluten. The blue line on the left test area ( C ) is a control line and indicates that the extract/sample is suitable, the test has been performed correctly and all reagents are active. Please don't take any of my test results as a medical advice – see my facts page.