Another test provided by Adam and as usual a good story to read:
…Coopers Birell Ultra Light, commonly known as "Birell".  It is a very very low alcohol content beer (about 0.5% – some call alcohol-free).  In fact my parents let me and my brother drink it as children on Saturday nights at home when my father had his big (longneck) bottle (or two) of Southwark Premium whilst we watched Saturday night television together as a family.  It was (and still very much is) a very flavoursome drink – very malty flavour.  So much so that I thought it may not be low enough in gluten, but it is.  Brilliant.  A good one to have when wanting to drive, or not get drunk.  And, unlike some other low/no alcohol beers, I've seen tested on your website, it is all natural.  Yum yum!
Beer: Coopers Birell Ultra Light
Producer: Coopers Brewery
Originating country: Australia
Brewing location: Australia
Bottle size: 375 ml
Alcohol by volume: less than 0.5% (according to label)
Ingredients: water, malted barley, hops and yeast
Miscellaneous: commonly just called Birell
Test Kit: GlutenTox Home Kit
Adam tested with a threshold of 20 ppm. The limit of detection depends on the number of drops taken from the extraction solution, please find some more information here.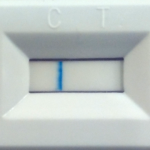 Test result: There is no indication of the presence of gluten above 20 ppm. According to the instructions there should appear a clearly visible red test line on the right of the test area ( T ) to indicate the presence of gluten. The blue line on the left test area ( C ) is a control line and indicates that the extract/sample is suitable, the test has been performed correctly and all reagents are active. Even though this test is negative please note it is not a medical advice – see my facts page.