This is the second test from Oivind. After his recent San Miguel test he tested another San Miguel with less alcohol. This San Miguel has only 4.5 % ABV. I didn't even know that this variant exists. He explained that in Norway it is only allowed to sell alcohol up to a level of 4.7 % ABV in grocery stores. Alcohol over 4.7 must be purchased at the wine monopoly. So this variant seems to be determined for Norway or the Scandinavian countries in general. Actually it doesn't look very different from the regular San Miguel with 5.4 % ABV, only the word "Especial" is missing on the label.
Beer: San Miguel
Producer: Mahou-San Miguel
Originating country: Spain/Philippines
Brewing location: Spain
Bottle size: 500 ml = approx. 16 Oz.
Alcohol by volume: 4.5%
Ingredients: water, barley malt, maize, hops
Miscellaneous: Producer name on label states Cervezas San Miguel which is the assumed brewing location.
Test Kit: GlutenTox Home Kit
Oivind tested with a threshold of 20 ppm. The limit of detection depends on the number of drops taken from the extraction solution, please find some more information here.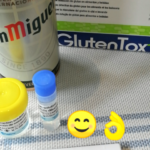 Test result: There is no indication of the presence of gluten above 20 ppm. According to the instructions there should appear a clearly visible red test line on the right of the test area ( T ) to indicate the presence of gluten. The blue line on the left test area ( C ) is a control line and indicates that the extract/sample is suitable, the test has been performed correctly and all reagents are active. Please don't take any of the test results as a medical advice – see the facts page.