This is a very much requested test. Many people asked for this already. During one of my last trips I grabbed a Tiger can and took it home to test it on gluten. Taste is quite OK. Nothing special, probably best enjoyed in Asia when the weather is hot and the beer cold.
Beer: Tiger
Producer: Asia Pacific Breweries Ltd
Originating country: Singapore
Brewing location: European Union
Bottle size: 330 ml
Alcohol by volume: 5.0%
Ingredients: water, malted barley, maize grits, hop extract
Miscellaneous: –
Test Kit: GlutenTox Home Kit
I tested with a threshold of 5 ppm. The limit of detection depends on the number of drops taken from the extraction solution, please find some more information here.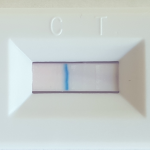 Test result: There is no indication of the presence of gluten above 5 ppm. According to the instructions there should appear a clearly visible red test line on the right of the test area ( T ) to indicate the presence of gluten. The blue line on the left test area ( C ) is a control line and indicates that the extract/sample is suitable, the test has been performed correctly and all reagents are active. Please don't take any of my test results as a medical advice – see my facts page.