Busch beer is on place 8 of America's best selling beers, please see here an interesting slideshow of the best selling beers of 2012. Busch is brewed by Anheuser-Busch and was called Busch Bavarian Beer until 1979.
After my gluten test of course I drank the beer and honestly I could not taste much difference to Bud Light which I tested earlier. And, as I mentioned above, it was called Bavarian beer but it really has nothing to do with e.g. the Bavarian beers I recently tested. But let's come to the purpose of this post – how much gluten does Busch beer contain?
Beer: Busch
Producer: Anheuser-Busch
Originating country: USA
Brewing location: USA
Bottle size: 12 oz can (approx. 340 ml)
Alcohol by volume: 4.3%
Ingredients: water, barley malt, cereal grains, hops, yeast
Miscellaneous:  –
Test Kit: GlutenTox Home Kit
I tested with a threshold of 5 ppm. The limit of detection depends on the number of drops taken from the extraction solution, please find some more information here.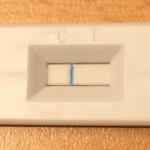 Test result: The test is negative. In this test Busch beer has less than 5 ppm gluten (or even no gluten). However, it is not a medical advice – please see my facts page.