There are not many Belgian beers available in Germany. Well, there is actually no need to import beer from Belgium as the German beer is generally good but Belgian beer has a good reputation in the world. From the few Belgian beers I found most contain strong alcohol and wheat like Chimay and Grimbergen. One exception is Duvel, no wheat according my internet research (see below the ingredients are not listed on the label) but still strong alcohol. Alcohol delivers flavour so Duvel has a crisp taste. But for me it has too much alcohol and too much gas so it will not become one of my favourites. And here is the gluten test result:
Beer: Duvel
Producer: Brouwerij Duvel Moortgat
Originating country: Belgium
Brewing location: Belgium
Bottle size: 330 ml = approx. 12 Oz.
Alcohol by volume: 8.5%
Ingredients: water, malt, yest, hops (internet research)
Miscellaneous: Ingredients not listed on label
Test Kit: GlutenTox Home Kit
I tested with a threshold of 5 ppm. The limit of detection depends on the number of drops taken from the extraction solution, please find some more information here.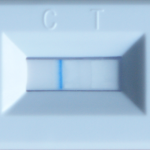 Test result: There is no indication of the presence of gluten above 5 ppm. According to the instructions there should appear a clearly visible red test line on the right of the test area ( T ) to indicate the presence of gluten. The blue line on the left test area ( C ) is a control line and indicates that the extract/sample is suitable, the test has been performed correctly and all reagents are active. In this test there is no indication that Duvel has more than 5 ppm gluten. However, it is not a medical advice – please see my facts page.