Back in 2015 I started a poll about Dutch beer you want me to test and the winner was Heineken. On 2nd place was Grolsch – another famous Dutch beer and in my eyes the better tasting one. Adam was so kind to test Grolsch now. And here is the result.
Beer: Grolsch
Producer: Koninklijke Grolsch N.V.
Originating country: Netherlands
Brewing location: Netherlands
Bottle size: 450 ml
Alcohol by volume: 5.0%
Ingredients: water, malted barley, hops
Miscellaneous: –
Test Kit: GlutenTox Home Kit
Adam tested with a threshold of 20 ppm. The limit of detection depends on the number of drops taken from the extraction solution, please find some more information here.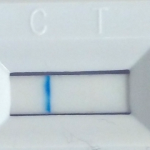 Test result: There is no indication of the presence of gluten above 20 ppm. According to the instructions there should appear a clearly visible red test line on the right of the test area ( T ) to indicate the presence of gluten. The blue line on the left test area ( C ) is a control line and indicates that the extract/sample is suitable, the test has been performed correctly and all reagents are active. Even though this test is negative please note it is not a medical advice – see my facts page.