Today I tested the famous Guinness Extra Stout beer. I occasionally drank draught Guinness in bars but I never tried it in bottles before. Well, a good Guinness is best served in an old pub with friends coming in a pint glass with a creamy, dome-shaped head. For a gluten test the bottled Guinness will do it as the ingredients should be the same.
Beer: Guinness
Producer: St. James's Gate Brewery/Diageo
Originating country: Ireland
Brewing location: Ireland
Bottle size: 0.33 l = approx. 11 Oz.
Alcohol by volume: 4.1%
Ingredients: water, barley malt, roasted barley, hops, yeast (translated from German)
Miscellaneous: –
Test Kit: Imutest Gluten-in-Food Kit
Test result: There is a clearly visible pink test spot on the left of the test area ( T ) which indicates the presence of gluten. According to the instructions a "very low gluten" level of 20 to 100 ppm should give a test spot which is weaker or similar in intensity to that of the control spot ( C ). Please find some more information here. The test spot appears lighter than the control spot.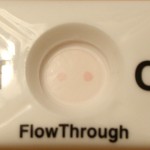 On a scale from 1 to 20 I would rate Guinness 3/4 so in this test it has around 20-30 ppm. Even though this test is positive please note it is not a medical advice – see my facts page.