This is my second Oktoberfest beer test. This special Hofbrau beer has been tested with a very low gluten level previously and here comes my test result.
Beer: Hofbrau Oktoberfest
Producer: Hofbrau Munich
Originating country: Germany
Brewing location: Germany
Bottle size: 0.5 l
Alcohol by volume: 6.3%
Ingredients: water, barley malt, hops (translated from German)
Miscellaneous:  Only available during Oktoberfest times in Germany. Brewery owned by the Bavarian state government – isn't that cool? A brewery run by the government 🙂
Test Kit: GlutenTox Home Kit
I tested with a threshold of 5 ppm. The limit of detection depends on the number of drops taken from the extraction solution, please find some more information here.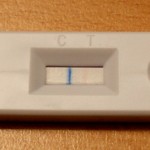 Test result: A clearly visible red line appears on the right of the test stick ( T ) which indicates the presence of gluten equal to or above 5 ppm (most likely above because of the past results). The red line is quite weak (even weaker than in the Lowenbrau Gluten Test) but still clearly visible. Even though this test is positive please note it is not a medical advice – see my facts page.