Here is my first Oktoberfest beer test as announced a few days ago. This Lowenbrau (or Löwenbräu with mutated vowels) beer has been tested with very low gluten in the past and here is the result of my test.
Beer: Lowenbrau Oktoberfest
Producer: Lowenbrau
Originating country: Germany
Brewing location: Germany
Bottle size: 0.5 l
Alcohol by volume: 6.1%
Ingredients: water, barley malt, hops, hops extract (translated from German)
Miscellaneous:  Only available during Oktoberfest times in Germany
Test Kit: GlutenTox Home Kit
I tested with a threshold of 5 ppm. The limit of detection depends on the number of drops taken from the extraction solution, please find some more information here.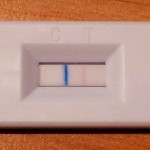 Test result: A clearly visible red line appears on the right of the test stick ( T ) which indicates the presence of gluten equal to or above 5 ppm (most likely above because of the past results). The red line is not bright but clearly visible. Even though this test is positive please note it is not a medical advice – see my facts page.