During my last trip to Detroit I wanted to try some local beer – Michigan beer. The most famous local beer seems to be Badass – the beer launched by Kid Rock. It is available in many locations. I have only seen this from tap and found it quite OK. Next time I will try to get a bottle to test it on gluten.
I was surprised how far Michigan is with gluten free options. In Clarkston in the outskirts of Detroit I was able to get gluten free food without problems. E.g. at the  Clarkston Union restaurant I was able to get my burger with gluten free buns. The Woodshop next door even offers gf Mac & Cheese – both of course serve Badass beer.
I had not much time to look for Badass in shops so the only local beer I found was Petoskey Sparkle American Lager and Rochester Mills Pine Knob Pilsner. I decided for Petoskey as I didn't want a Pilsner but only found out later that it contains wheat which is according to my experience always a bad sign for the gluten concentration.
Beer: Petoskey Sparkle
Producer: Petoskey Brewing Company
Originating country: USA
Brewing location: USA
Bottle size: 1 Pint can
Alcohol by volume: 4.1%
Ingredients: not stated, back side lists wheat and 4 malts and 3 different types of hops
Miscellaneous: –
Test Kit: Imutest Gluten-in-Food Kit
Test result: There is a clearly visible pink test spot on the left of the test area ( T ) which indicates the presence of gluten. According to the instructions a "very low gluten" level of 20 to 100 ppm should give a test spot which is weaker or similar in intensity to that of the control spot ( C ). Please find some more information here.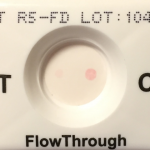 On a scale from 1 to 20 I would rate the test spot intensity 4. As Imutest uses the R5 antibody since a while it is difficult to estimate the gluten level in ppm in comparison to Skerritt antibody they used earlier, hence I will mark the test just positive. Even though this test is positive please note it is not a medical advice – see my facts page.