Another test of Australian craft beer from Adam.
…another local beer. This time from a brewery that came from nowhere (although the two brewers had worked previously together in Western Australia at Little Creatures Brewery). They began here in Adelaide in 2014 or 2015 and have just got amazingly bigger and bigger and bigger. Their brews are not cheap as they really specialise in very good quality product. They have mainly made ales and a stout. This new pilsner is their first lager style as far as I'm aware, so I finally felt confident to test one of their beers.

https://piratelife.com.au/

I tested at 20ppm (as usual) and there was definitely no red line. The beer was very nice indeed. The hops were so refreshing and flavoursome. Wow!

Have at look at the pictures I took. Around the top of the can they tell you their process and mention each barley and hops used. Pretty cool. They do the same for all of their brews and only use cans, never bottles. Not a problem as I always drink from a glass anyway (of course).
Beer: Pirate Life Pilsner
Producer: Pirate Life Brewing Adelaide
Originating country: Australia
Brewing location: Australia
Bottle size: 355 ml (can)
Alcohol by volume: 4.8%
Ingredients: no listed
Miscellaneous: only available in cans
Test Kit: GlutenTox Home Kit
Adam tested with a threshold of 20 ppm. The limit of detection depends on the number of drops taken from the extraction solution, please find some more information here.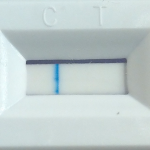 Test result: There is no indication of the presence of gluten above 20 ppm. According to the instructions there should appear a clearly visible red test line on the right of the test area ( T ) to indicate the presence of gluten. The blue line on the left test area ( C ) is a control line and indicates that the extract/sample is suitable, the test has been performed correctly and all reagents are active. Even though this test is negative please note it is not a medical advice – see my facts page.