There are plenty of excellent beers available in Czech Republic. The best selling beer within the country is Gambrinus -the god of beer- which I already tested in 2013. The most famous beer of course is Budweiser due to the popularity of its American brother which only have the same name but nothing else in common. Pilsner Urquell is a famous Czech export beer whilst Staropramen is the favourite beer in the capital Prague. Please vote which of these Czech beers you want me to test next.
Budweiser (Czech Original)
Staropramen
Pilsner Urquell
Which Czech beer do you want me to test next?
Pilsner Urquell (43%, 47 Votes)
Budweiser (Czech Original) (40%, 44 Votes)
Staropramen (17%, 19 Votes)
Total Voters: 110

Loading ...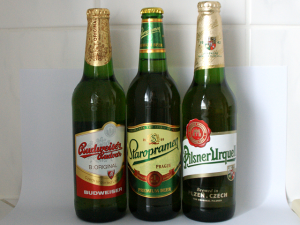 Poll closed on 23/01/2015.