Coors beer was totally unknown to me until I have seen statistics about America's best selling beers. In the recent poll Coors Light could even beat Miller Lite which I consider more famous. Coors beer is named after its German inventor Adolph Coors but tastes like a typical American light beer rather than a German beer. It was OK to drink but not something special, very average watery beer. And here is the Gluten test result:
Beer: Coors Light
Producer: Coors Brewing Company
Originating country: USA
Brewing location: USA
Bottle size: 16 oz (approx. 470 ml)
Alcohol by volume: 4.2%
Ingredients: water, barley malt, hops, yeast
Miscellaneous: Ingredients listed in German as product sold in Germany
Test Kit: GlutenTox Home Kit
I tested with a threshold of 5 ppm. The limit of detection depends on the number of drops taken from the extraction solution, please find some more information here.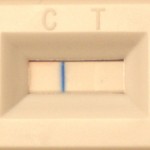 Test result: The test is negative. In this test there is no indication that Coors Light has more than 5 ppm gluten. However, it is not a medical advice – please see my facts page.