During my recent trip to Spain I had the chance to test a famous gluten free labelled beer. As I always take a test kit with me when I go abroad I supposed to test the draught beer they sold in my hotel but then I saw Estrella Daura Damm in a supermarket and couldn't resist. The price is rather high, almost as double as the regular Estrella Damm beer but I really wanted to enjoy an officially labelled gluten free beer. Well, not everywhere – in some countries (like in the US) Damm is not allowed to label it gluten free – I guess because it contains barley. Their marketing experts instead use the fantastic wording 'crafted to remove gluten' in the US – well done you marketing pals. Anyway, the European version clearly says "below 3 ppm" on the bottle which moreover is confirmed by the Spanish National Research Council so this all implicitly says it is safe for Celiacs and people with GS. And this beer really tastes like beer, actually no difference to the "normal" Estrella Damm, refreshing and crisp.
A gluten free labelled beer, below 3 ppm, researched and confirmed by a Spanish public institution and it even tastes like a real beer – everything seems to be perfect. And then happens this:
Beer: Estrella Damm Daura
Producer: S.A. Damm
Originating country: Spain
Brewing location: Spain
Bottle size: 330 ml = approx. 12 Oz.
Alcohol by volume: 5.4%
Ingredients: water, barley malt, rice, hops
Miscellaneous: officially labelled gf beer
Test Kit: Imutest Gluten-in-Food Kit
Test result: There is a clearly visible pink test spot on the left of the test area ( T ) which indicates the presence of gluten. According to the instructions a "very low gluten" level of 20 to 100 ppm should give a test spot which is weaker or similar in intensity to that of the control spot ( C ). Please find some more information here. The test spot appears almost identical to the control spot.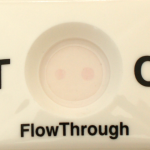 On a scale from 1 to 20 I would rate the test spot intensity 5 or 6 so in this test the level is above 20 ppm. Even though this test is positive please note it is not a medical advice – see my facts page.