Today I want to inform you about my experiences with the gluten test kits I use to test the level of gluten in beer.
According to my doctor the toughest for men with Celiac Disease is the avoidance of normal beer as beer naturally is brewed with barley and so they believe they cannot consume it anymore. When I was diagnosed with CD I had the same reaction. I don't like strong alcohol or wine but I really enjoyed a beer with friends. In our culture beer is a popular drink when socialising. It's not about getting drunk but moderate consumption of beer in good company gives you a good feeling.
I gave up wheat containing pasta, pizza and bred – not so difficult for pizza but I really loved pasta and the numerous wonderful German bread types. So I said OK I gave up good food already but is it true that I cannot drink normal beer anymore and have to drink this horrible tasting and expensive gf beers brewed with artificial ingredients, glucose syrup and whatever? And now after more than one year testing beer on its gluten content I am convinced that a lot of normal beers are suitable for a lot of Celiacs. Not for all – there are people who react on the tiniest amount of gluten. But I believe the majority can drink a lot of the normal beers available without getting reactions or intestinal damage. But it definitely makes sense to test your favourite beer on the gluten level. There are a number of test kit manufacturers and here is what I experienced:
Gluten-in-Food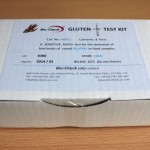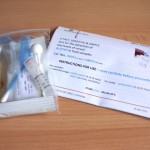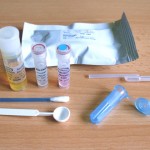 Manufacturer: Imutest
Costs: GBP 52.50 for a 5 test kit
Antibodies used: Skerritt
Method: Lateral Flow Through
My experience: Sensitive test kit with very low detection limit (1-2 ppm). Works with test spot intensity to determine level of gluten.
Hints and tips:
-according to Imutest the extraction step can be skipped for beer as gluten in beer is already solubilized
-if you use the pipette to measure the sample let the beer settle in a glass for 30 minutes or so to avoid a bubbling effect when you fill the pipette
Here are some more information and pictures.
GlutenTox Home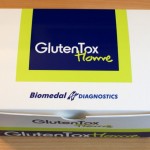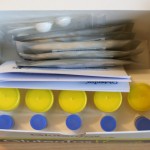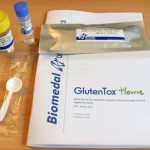 Manufacturer: Biomedal
Costs: USD 70 for a 5 test kit (International), EUR 42 for a 5 test kit (Benelux)
Antibodies used: G12
Method: Lateral Flow Through
My experience: Reliable test kit. Works with thresholds (5, 10, 20, 40 ppm) depending on the number of drops taken from the sample.
Hints and tips:
-the extraction must not be skipped according to Biomedal however when I tested the same sample with and without extraction the result was the same
-to measure the sample use the enclosed spoon
Here are some more information and pictures.
EZ Gluten
Manufacturer: ELISA Tech.
Costs: USD 60 for a 5 test kit
Antibodies used: Skerritt
Method: Lateral Flow Through
My experience: -none, not tested yet-
Hints and tips: –
AgraStrip Gluten
Manufacturer: Römer Labs
Costs: price available upon request
Antibodies used: G12
Method: Sandwich Lateral Flow Through
My experience: -none, not tested yet-
Hints and tips: -not suitable for testing beer according to the manufacturer