As a result of the recent poll I promised to test two famous American beers – Miller High Life and Budweiser. I started with Miller which had the best taste of the American beers I tested so far. The reason might be the stronger alcohol as the flavour carrier which Miller contains compared to the two light beers with less alcohol I tested so far: Busch and Bud Light. Anyway, here is the Miller High Life gluten test result.
Beer: Miller High Life
Producer: Miller Brewing Company
Originating country: USA
Brewing location: USA
Bottle size: 12 oz = 0.355 l
Alcohol by volume: 4.7%
Ingredients: water, barley malt, hops, yeast
Miscellaneous: Ingredients listed in German as product sold in Germany
Test Kit: GlutenTox Home Kit
I tested with a threshold of 5 ppm. The limit of detection depends on the number of drops taken from the extraction solution, please find some more information here.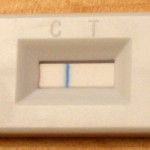 Test result: The test is negative. In this test Miller High Life has less than 5 ppm gluten (or even no gluten).
Despite the fact the test doesn't indicate the presence of gluten above a level of 5 ppm please note this is not a medical advice – as all other tests on my site aren't.
Please also refer to MillerCoors FAQs where they state the following:
"Gluten and non-gluten proteins are found in wheat, rye and barley. Because of the brewing process itself and filtration, beer made from barley malt does not contain large amounts of protein; however, some protein is essential for beer quality. Therefore, there are some proteins and trace amounts of gluten in our products. We recommend that anyone with gluten sensitivity not consume any of our products without prior discussion with their doctors."