There was a very clear result on the latest beer poll. Well, it strangly jumped on one day from a very close result to a huge lead and at the end to a clear winner. It seems "somebody" was really interested in getting this beer tested and voted over and over for Tuborg. Anyway – a poll is a poll and even without this "somebody" it was not unlikely that Tuborg wins this poll. 
I tested the German variant of the Tuborg pilsner and I don't know if this is similar to the "Tuborg Green". If you know please use the comments to let us know. 
And here is the test result:
Beer: Tuborg Pilsener
Producer: Carlsberg
Originating country: Denmark
Brewing location: Germany
Bottle size: 500 ml
Alcohol by volume: 4.9%
Ingredients: Water, barley malt, hops
Miscellaneous: on the label stated that the beer was brewed in Germany in accordance with the German purity law
Test Kit: Imutest Gluten-in-Food Kit
Test result: There is a very faint but visbile pink test spot on the left of the test area ( T ) which indicates the presence of gluten. According to the instructions a "very low gluten" level of 20 to 100 ppm should give a test spot which is weaker or similar in intensity to that of the control spot ( C ). As this spot is very faint the gluten level seems to be much below 20 ppm.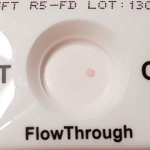 On a scale from 1 to 20 I would rate the test spot intensity 2. As Imutest uses the R5 antibody since a while it is difficult to estimate the gluten level in ppm in comparison to Skerritt antibody they used earlier, hence I will mark the test just positive. Please find some more information here. Even though this test is positive please note it is not a medical advice – see my facts page.